Like many, I've been fast-forwarding past the Microsoft Surface commercials as I watch recorded episodes of The Walking Dead. (Though, I will admit that I had to use Google's listening capabilities to find out what that music was… it's I Am the Best, by 2NE1.) It looks cool and all, but it also comes with a Windows lifestyle. I don't mind if you decide to use Windows, but I'd really rather not.
Then I saw this article:
CNN Discovers Promotional Surface Pros Make Fantastic iPad Stands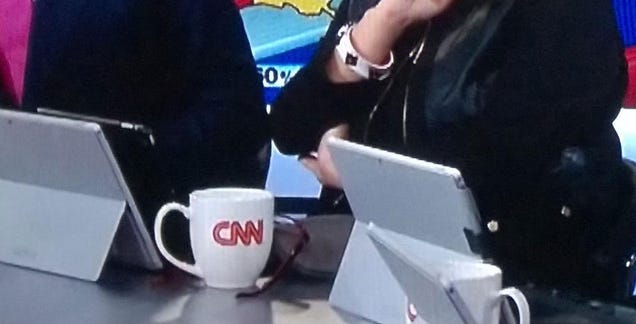 This makes me laugh. It's such a beautiful example of how people react to having technology pushed on them when they are trying to get something done. I wonder what sort of time was spent setting up the SPs and trying to orient staff on how to use them. Did they just pass them out or was there a concerted effort that was ultimately just ignored.
When I first saw the Surface Pro 3 I thought it looked interesting, but, as I mentioned before, I wasn't interested in moving to Windows for the privilege. I wondered how long it would take to see Linux running there. The answer… it already does:
So… I would probably need some time to poke through the tweaks for the keyboard and bluetooth, but I have no doubt that those things would all fall into place at some point… possibly by magic as the updates embraced the nuances of the hardware.
I could totally get on board with this! I wonder if they have any leftovers from CNN I could use!